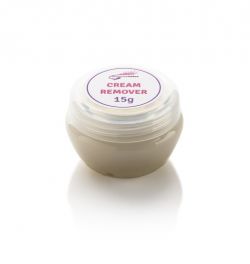 remover cream 15 g
The product is intended for fast synthetic eyelash removal in just 3-5 minutes. Due to its solid consistency, it is safer to use as there is a reduced risk of it entering the eye.
It should be applied when the eyes are closed. Intended for professionals.
A professional eyelash extension and thickening procedure is complicated and requires skill and practice to ensure the right effect. It should be noted, however, that at the same time, the process of removing false eyelashes is not as simple as it might seem. First of all, if 1:1 or volume eyelash extension has been carried out properly and the eyelashes hold well, they will be hard to remove without damaging the natural eyelashes.
However, this can be done with a remover, which is intended for fast removal of synthetic eyelashes. After the remover is applied to the eyelashes, just 3-5 minutes are enough to remove false eyelashes with the adhesive. The cream or gel form of the remover makes it easy to use. We offer eyelash glue removers to remove adhesive from eyelashes - whether properly applied or not - as well as from tools and the skin of the beautician and her clients. The composition of our product does not cause skin irritation and it is safe for natural eyelashes.