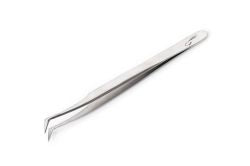 Very good, anti-slip, light tweezers. Silver color, straight.
Fit the hand perfectly. Their excellent grip makes the work easier and faster.
The tweezer blades are sharpened to make eyelash separation easier when picking a tuft, and the special structure will help every stylist find their favorite tweezers.
Perfect for eyelash volume extension, ideal for the "rocking" technique, do not miss a single hair, very precise.
Made of stainless steel.