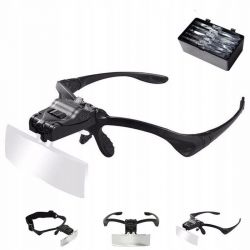 Magnifying binoculars with varied magnification are a perfect eyelash styling tool.
Using the large magnifying glass the image is extremely clear. The entire mechanism is based on the form of binoculars, to be worn by a stylist.
The magnifying glass has 3 different and replaceable magnifying glasses, packed into a special box which enables their storage, as well as a mini service screwdriver.
Technical specification:
Made of high-quality materials
Perfect for everyday use.
Very comfortable to use
It has 3 replaceable magnifying glasses.
Lens magnification: 1.5x; 2.5x; 3.5x
Very clear image
Magnifying glass angle adjustment
Color: black
Size: universal