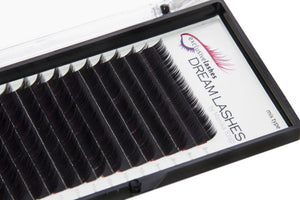 New, perfect eyelashes selected by Monika Rząp. She tested a lot of eyelashes to find the best to work on volumes.
It is very easy to create fans on them with the "translated" and "scratched" methods.
They are raven-black without a grenade or purple glow. The unprecedented thickness of 0.75 allows a more robust application with a small amount of work and material consumption. 
MIXED 8-14MM
!!!ATTENTION!!!
WE WILL POSTING  THEM OUT BETWEEN 17/6 - 23/6