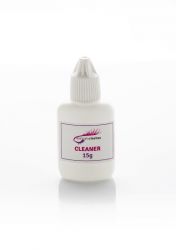 CLEANER 15g
A degreasing liquid for natural eyelashes. This fully degreases and cleanses eyelashes before application.
This ensures that a natural eyelash is better prepared for extension.
Before an eyelash thickening or extension procedure and the application of false lashes, a client must be properly prepared. For this purpose we offer a cleaner. The product is a liquid for degreasing natural eyelashes, which, like hair, are covered with natural sebum to a higher or lower extent. Using the cleaner, eyelashes can be fully degreased and cleaned before the application of false silk or mink fur eyelashes. This protects from early loss of attached eyelashes.