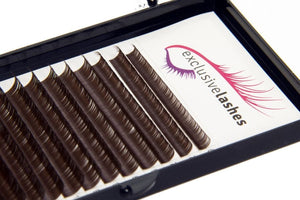 Exclusivelashes high quality false eyelashes for demanding eyelash stylists
Black Brown eyelashes are a high quality product. Colored false eyelashes by Exclusivelashes are intended for demanding eyelash stylists who appreciate professional accessories and eyelash extension products. Black Brown eyelashes are single, mounted on 16 strips in a very comfortable mix (6-13) and in the lengths of 9mm and 10mm, carefully selected.
Perfectly depart from the strip, making it easier to create perfect clumps to the volume! Their beautiful profile, softness and deep color add luxury to the eyelash extension treatment. An additional advantage is the location on white stripes.